Class 1
Welcome to our class page which is regularly updated with all the wonderful work and activities that we are busy with in Class 1. Take a look below at what we have been learning.
You can look at our archived webpage for 2015/16 HERE.
Synagogue Visit
We visited Sinai Synagogue in Leeds and were made to feel very welcome. We enjoyed having opportunity to walk around and find out about the differnt parts of the synagogue. We learned about what happens during Shabbat and then we were very lucky to see the Torah scrolls and to make our own little scrolls. Have a look at some of the photos of our visit...
Sculptures
We have learnt about the artist Pablo Picasso and created our own abstract sculptures. We used mod roc we wrapped around pipe cleaners; we painted these and the drew on facial features. Have a look...
Plants
We have been learning about plants and how they grow. We have also read the fairy tale Jack and the Beanstalk. So we decided to grow our own beanstalks. Look at our photos to see how we planted them...
Ambulance Visit
We were very lucky to have a visit from the Yorkshire Ambulance service. We found out what paramedics do and asked lots of questions. Afterwards we looked inside the ambulance and we even heard the sirens!
Skipping
This week we have bee very lucky to have a skipping workshop. We all learnt how to skip by ourselves, remembering to listen for the click before jumping. Afterwards we learnt how to run and jump into the big skipping rope.
We had a great session!
Summer 1 & 2 2017: Picture This!
This term, Class 1 will be using pieces of artwork to inspire learning.
The children will be finding out about the artist Pablo Picasso, looking at a range of pieces of art and talking about what they can see and how they feel when looking at the art.
In RE, the children will be learning about Judaism. They will be visiting a synagogue and then learning about what Jewish people believe and some Jewish practices and traditions.
Spring 2 2017: In Someone Else's Shoes
This half term, Class 1 is learning about the British astronaut Tim Peake. The children have asked lots of questions about space and his journey.
The children will be finding out about light and dark; a little bit about a rocket is made and aunched; how to train to be an astronaut, in PE; and will create a rocket-launch piece of music.
In RE, the children will be learning about the Christian festival of Easter and the different parts of the Easter story.
Rockets
After learning about Tim Peake's journey to space, the children investigated how to many a rocket fly. They designed and made their own rockets and then got a chance to fly them. Have a look below!
Measuring
We have been learning how to measure objects by using centimetres and metres. The children have also been comparing the height of objects and putting them in order. The metre rulers have been great fun to use!
Fractions
We have been learning about fractions. We can find the whole, a half and a quarter of a shape or an amount. The children had great fun cutting up pancakes and waffles to find a whole, a half, a quarter and even three quarters. Have a look at what they did...
Here is a display of the questions the children have asked and we are going to try and answer.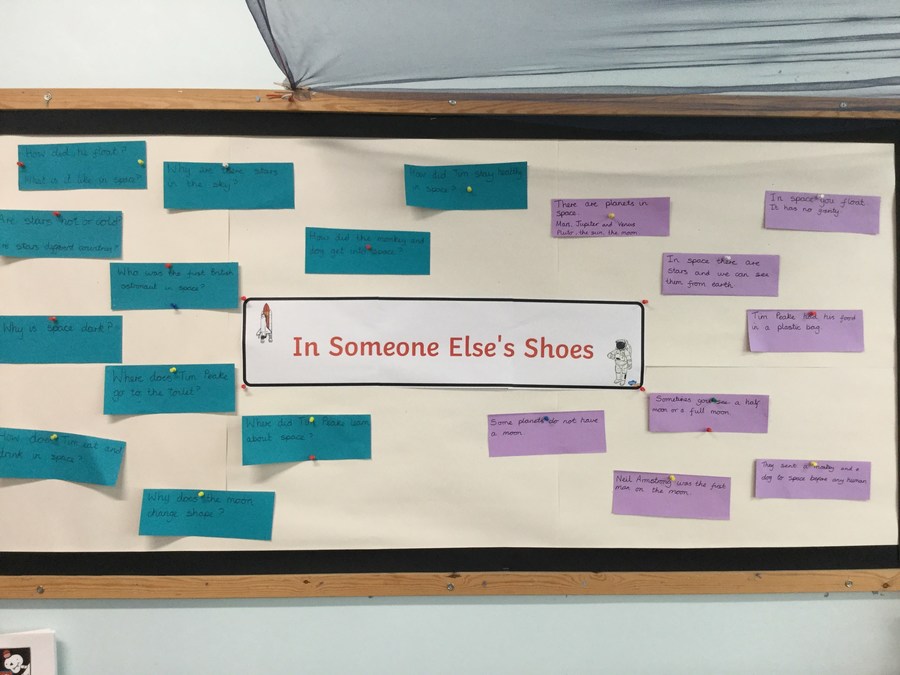 Spring 1 2017: Lights, Camera, Action: II
This half term Class 1 is learning about life under the sea by using the film Finding Nemo.
The children are going to be learning about the oceans around the word; how to classify animals that live in our seas and oceans; how use different media to represent sea-creatures in art activities.
In RE, the children will getting to know some stories from the Bible and the Torah.
We have been learning to collage in our art lessons. The children made their own Green Sawfish and Whiptail Ray after our visit to The Deep.
The Deep
We had a fantastic day at The Deep and managed to find all the animals we had learnt about...apart from the Spotted Wobbegong, apparently he was hiding from us!
Finding Nemo
The children are using clips to help stimulate writing in Class 1.
We have been finding out about the main characters and
have written some descriptions of Nemo, Marlin, Dory and Bruce:
'Dory is bright and colourful.'
'Nemo has a special fin.'
'Bruce has a fierce grin.'
Which fish can you spot in the clip below?
KIRF Challenge
This half term we are learning to count in 2s, 5s and 10s. We need to count forwards and backwards and be able to write the numbers quickly and confidently.
Here are some videos of songs that we use in school to help us.
Autumn 2 2016: Enquiring Minds
This half term Class 1 is learning to ask questions.
Why was Florence Nightingale an important person in history?
Why do we have bones in our bodies?
How can we make a picture move?
We are also learning the words and songs for our nativity play: Stargazers.
Autumn 1 2016: Where in the World?
This half term, Class 1 is finding out about different places around the world. We will be looking at Tanzania, Australia, Tokyo and the UK. The children will be learning about churches around the world as well as different Christian festivals.
We are also learning the days of the week and months of the year.
Over these first few weeks, Reception pupils have been busy settling in at Lady Hastings' and have been learning the routines and expectations. Year 1 pupils have been setting a great example to the younger children.
Pupils have been exploring our indoor and outdoor areas with confidence. Have a look..
So far this half term the children have all drawn a self portrait and created a primary colour wheel. You can see them on display in Class 1
Class 1 2016
Here is how the classroom is set out for our year ahead.
What would you like to get busy doing?