Class

4

Welcome to our webpage! Here you will find updates about what we are learning in Class 4 as well as chance to take a peek at our wonderful work. Have a look below to find out what we have been up to each half term...

If you want to see our archived Class 4 page for 2015/16, please click HERE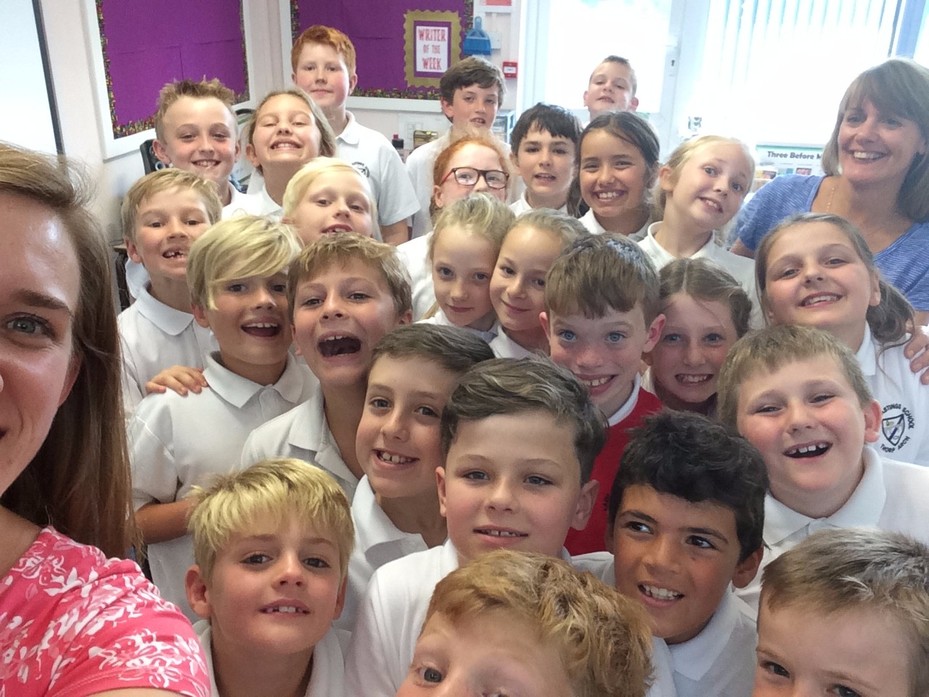 Our Class 4 Selfie! #workhard #havefun
Summer 2 2017: Leeds City Skipping Final
On Wednesday, we attended the Leeds City Skipping Final at Leeds Beckett University. It was a fantastic morning and we thoroughly enjoyed ourselves. The competition was tough, with seven other schools competing too and skipping standards were very high! We did achieve some excellent results... (remember, these are out of the whole of Leeds!)
Harry - BRONZE in Double Bounce
Lily - SILVER in Speed Bounce
Lizzy - SILVER in Side Swing
Joe - SILVER in Cross Over
Seb - SILVER in Pretzel
Elliot D, Alec, Ellice, Leah, Oliver and Fynn - SILVER in Run-Jump-Out
Archie, Hugo, Bobby, Elliot G, Charlie G, Jack, Seb, Harry, William and Finlay - GOLD in Keep the Pot Boiling
Class 4 - SILVER in the Skipdance
The whole competition was really enjoyable and Mrs Carr, Mrs Stephens and Ms Ulyett were all very proud of the children who represented Lady Hastings' so well - and with such skipping prowess!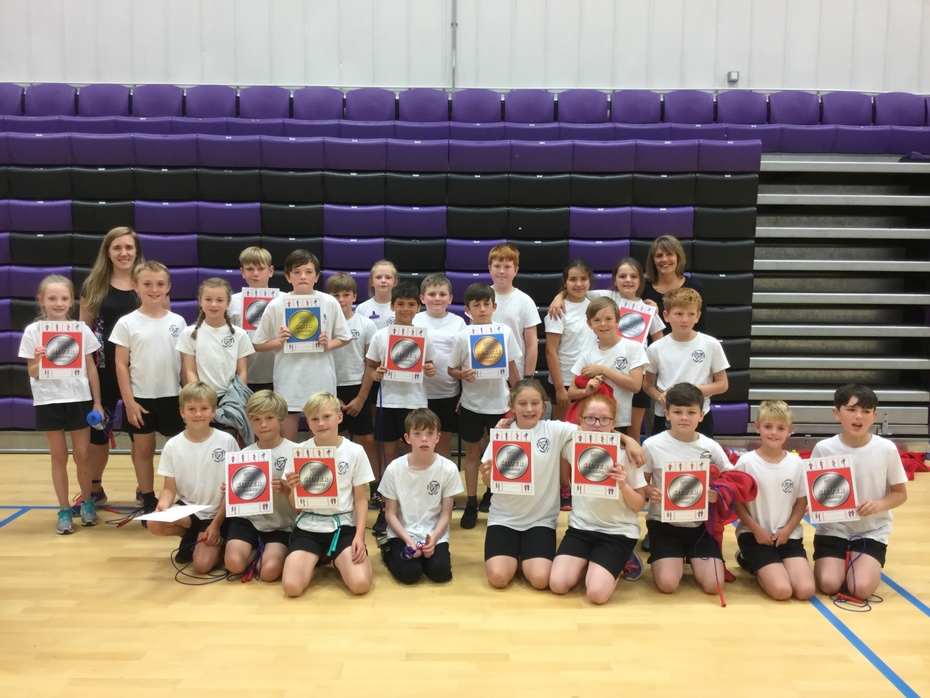 There are some clips of the LEH Class 4 team in action on Skipping School's Twitter page... including the Keep the Pot Boiling winners: https://twitter.com/skippingschool1/status/885141352530444290
Summer 2 2017: Whole School Trip to Cannon Hall
Last Thursday, the whole school visited Cannon Hall Farm near Barnsley. It was a fantastic day - and we were lucky with the weather! We explored the farm, had a guided tour around the barns seeing lots and lots of piglets, watched the ferret and sheep racing and made the most of the excellent playgrounds.

Summer 2 2017: Big Play!

After quite a few weeks of rehearsals, on Tuesday 20 June, most of Class 4 went to Leeds Town Hall to take part in the Big Play concert. It was a great day. We spent the morning rehearsing and then performed five pieces in the afternoon concert. There were over 500 children taking part, and nearly 400 of them were playing the ukulele! It was a great experience and in a very beautiful venue. Thanks to all those parents and grandparents who came to watch, and to Mr Rossiter for helping us prepare in lessons and for performing with us on the day!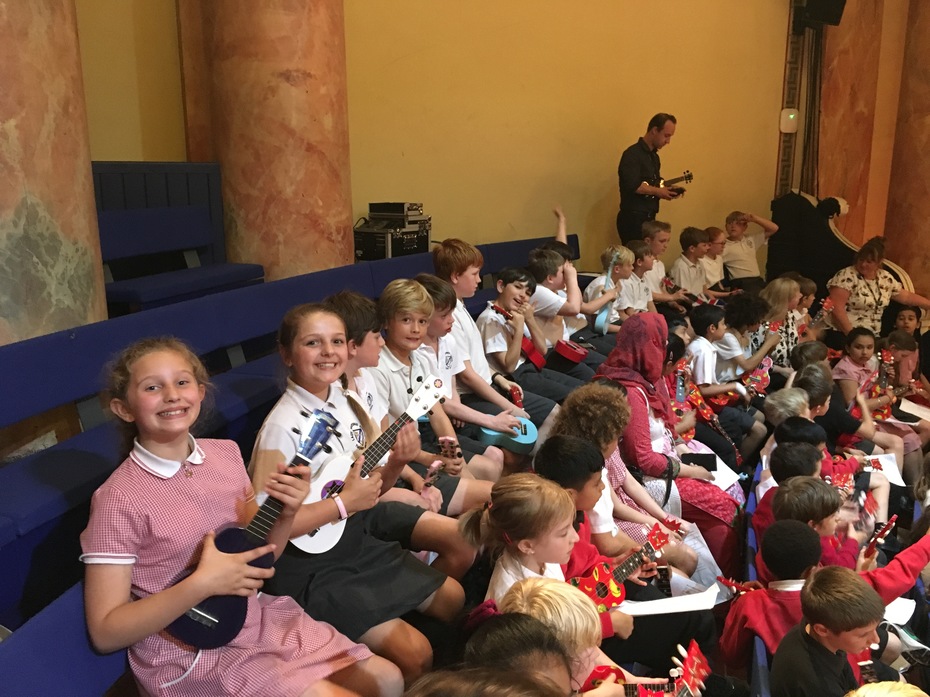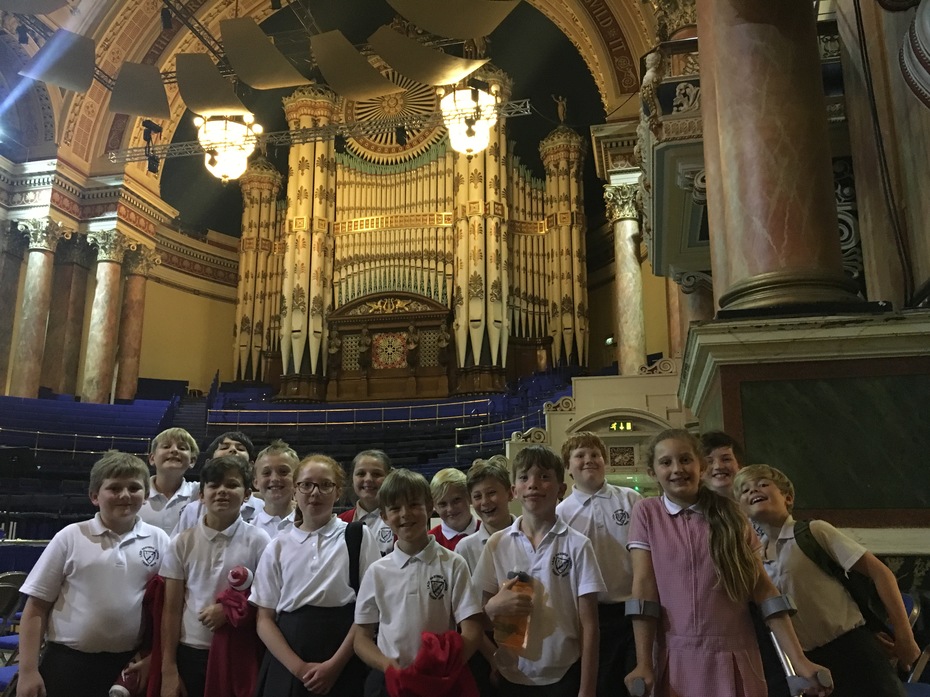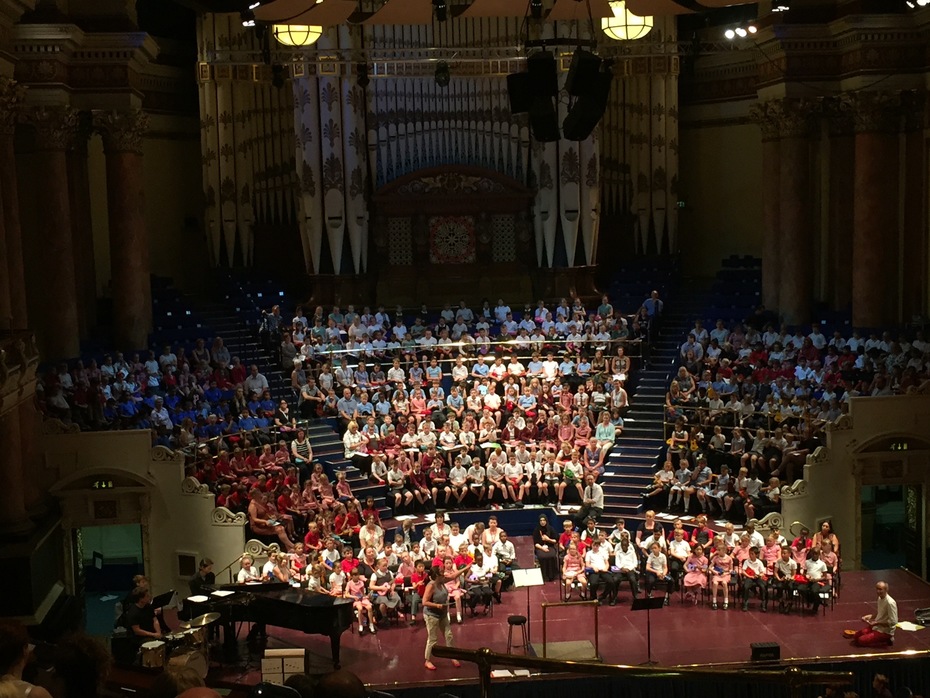 (And well done to the Year 4 cricketers who had a good time in the West Yorkshire Final of the Drax Cup on the same day.)
Summer 2 2017: Picture This... continued
We are continuing with our theme of 'Picture This' this half term to make the most of having some real works of art in school. To tie in with our art and geography work, we will look at a painting entitled 'Feverishly, he scrabbled at a piece of rock' which is set on a beach.
We have a busy few weeks too with the Big Play ukulele concert at Leeds Town Hall, Sports Days and the Leeds City Skipping Final, never mind rehearsing for the end of year production!
Thursday 18 May 2017: D&T Visit to St John's
To help us to develop skills of cutting, joining and working with wood, St John's School for the Deaf kindly invited us to undertake a project at their workshop. It was a huge success! We had a wonderful day creating our wooden aeroplanes, working with the students from St John's and using some new equipment - as well as testing our planes and playing football after lunch. Thank you SO much to the staff and pupils at St John's: Mrs Fowler, Mr Lynch, Miss Dyer, Mrs Shaw, Alex, Macauley, Tyler, Finn, Julian, Sol and Mqhele.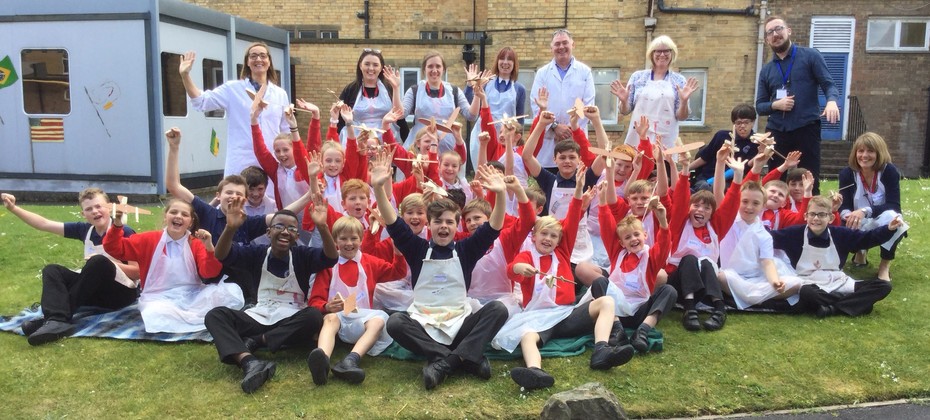 Thursday 27 April 2017: Skipping Festival
Class 4 attended the skipping festival at Boston Spa School. It was a really enjoyable afternoon run by Jodi and Chris of Skipping School Ltd. The children were excellent - superstar skippers, sporting attitudes and brilliant behaviour. Class 4 was a real credit to Lady Hastings' with children being both supportive of each other and appreciative of the competition.

To top it all off, we won plenty of bronze, silver and gold awards in the different sections of the competition - including GOLD for our skipdance. We were excited when it was announced that we were overall winners of the event and are through to the finals in June!
You'll be able to see our winning skipdance at sports day later this term.
Summer 1 2017: Picture This
We have a very busy half term ahead of us and we are already practising madly for the skipping festival on Thursday 27 April. In preparation for the Tour de Yorkshire this weekend as well, we have decorated five sheep as part of Wetherby High School's Land Art. We think they look great - and have even given them names!

Miss McAndrew is with us for the next five weeks too, and as part of our theme 'Picture This', we will be studying a range of paintings and pieces of artwork which are on display around school. To start with, however, we are looking at Peter Neal's 'Cat and Bird' which is hung on the display in Class 4.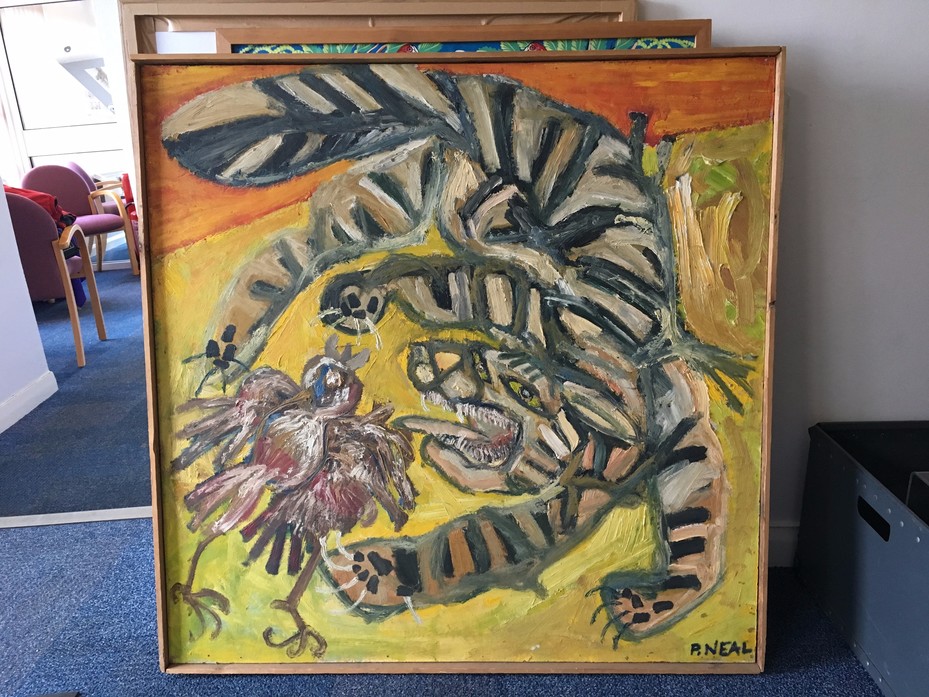 Spring 2 2017: In Someone Else's Shoes
As part of our work in RE this half term, along with Class 5 we visited the Madni Jamia mosque in Bradford last Friday.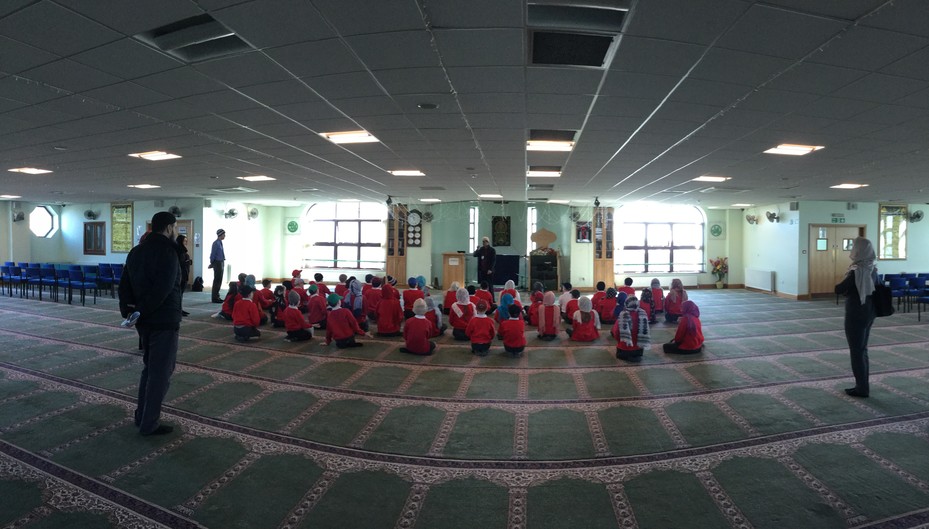 It was a really informative visit: we learned about parts of the mosque; visiting Mecca and the Hajj; daily prayers; and what the Ummah (worldwide Islamic community) means to Muslims.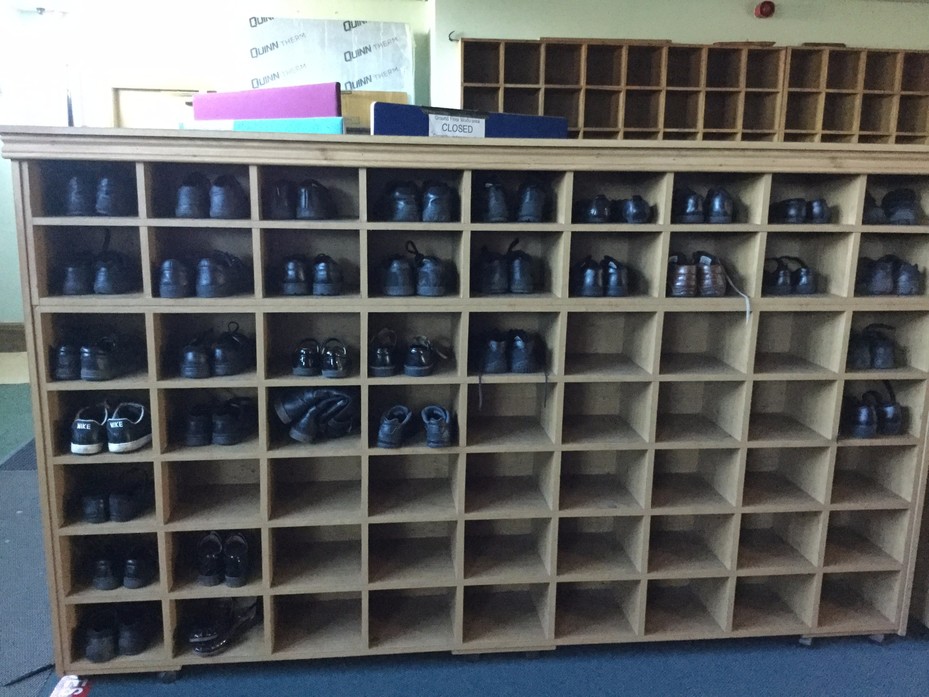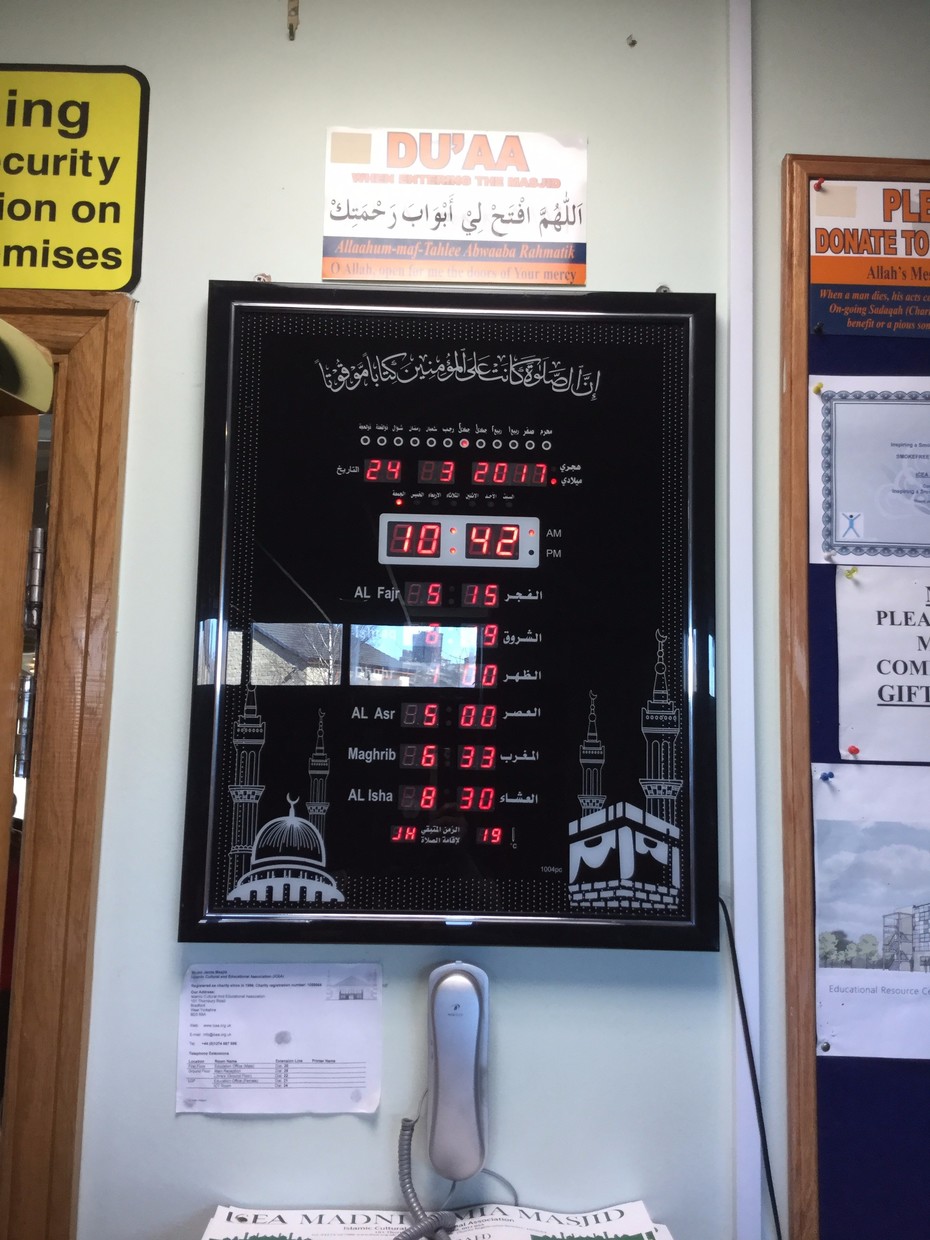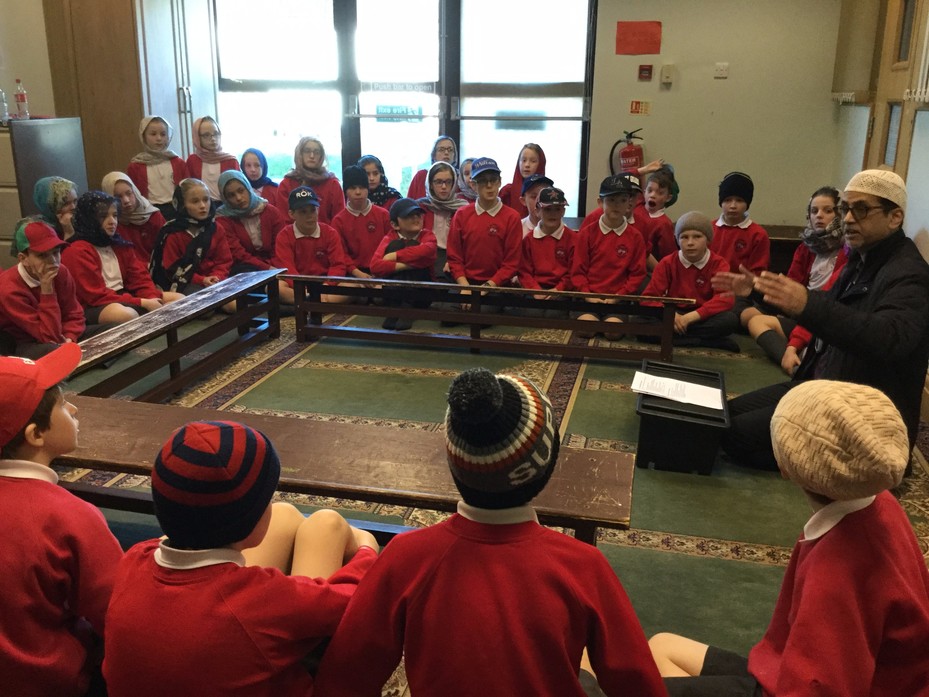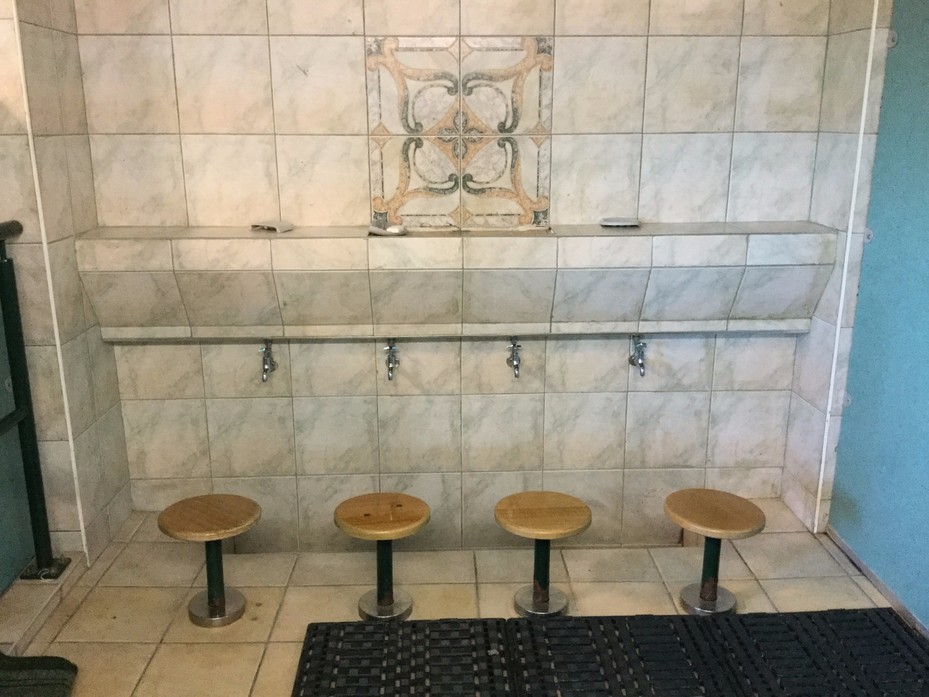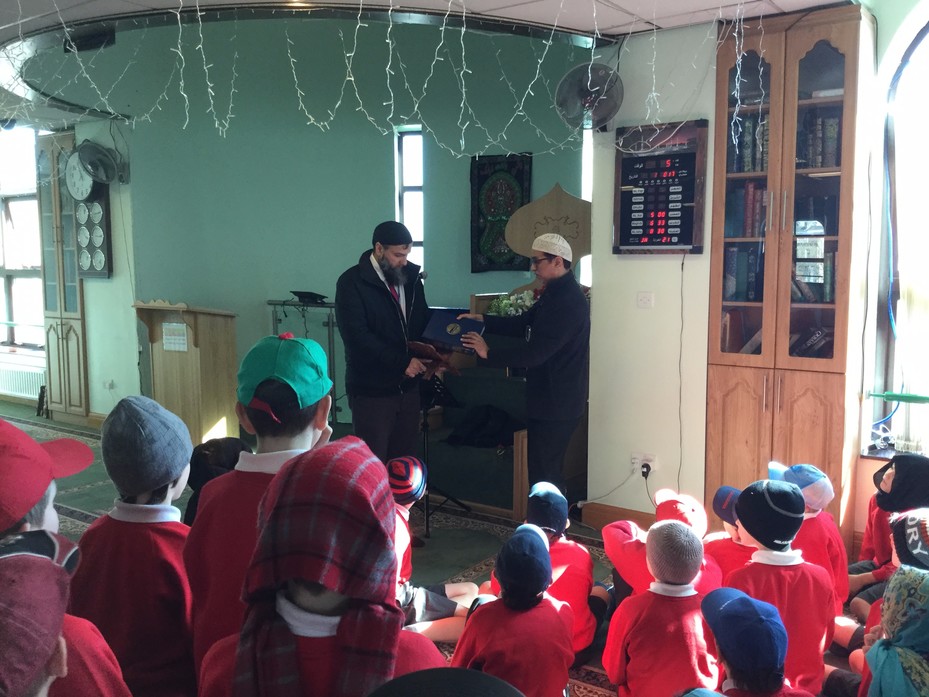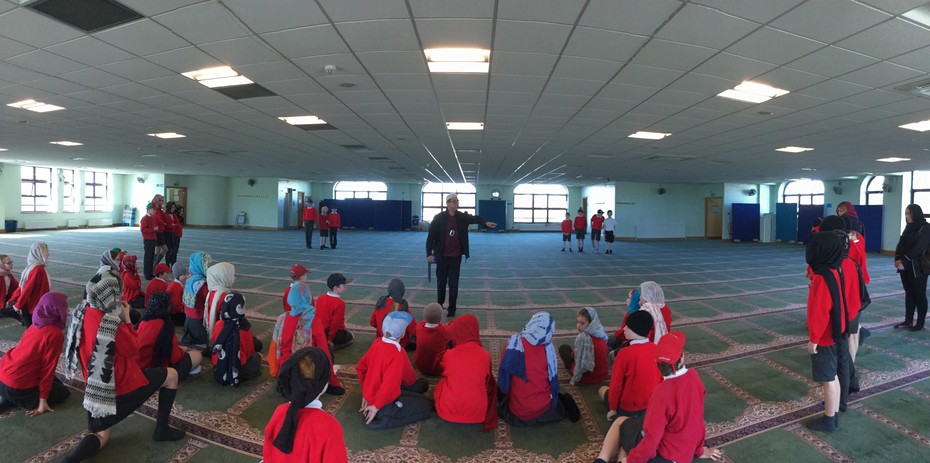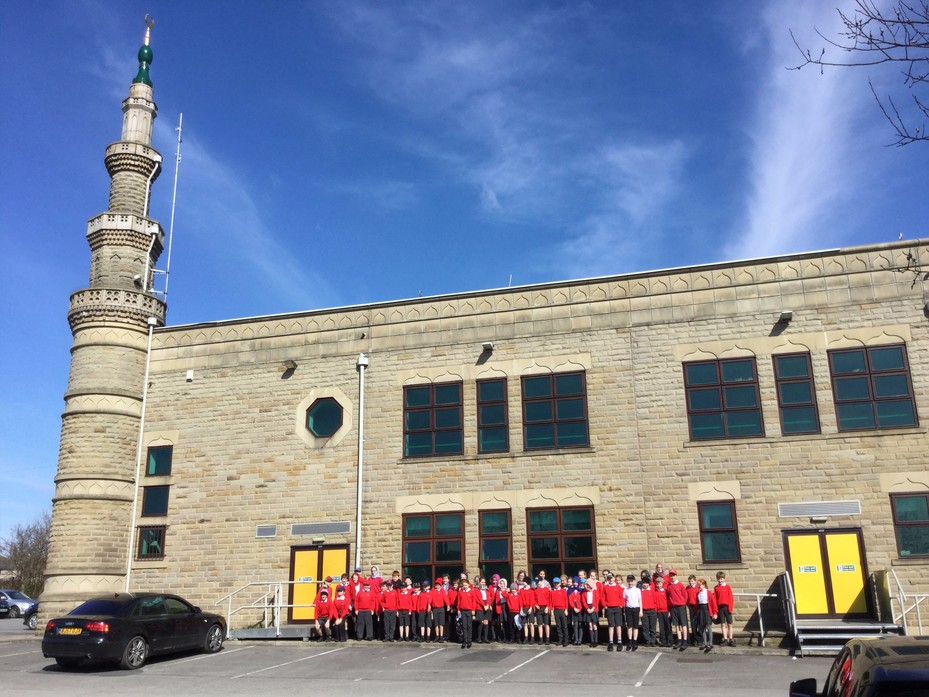 Spring 1 2017: Lights, Camera, Action II!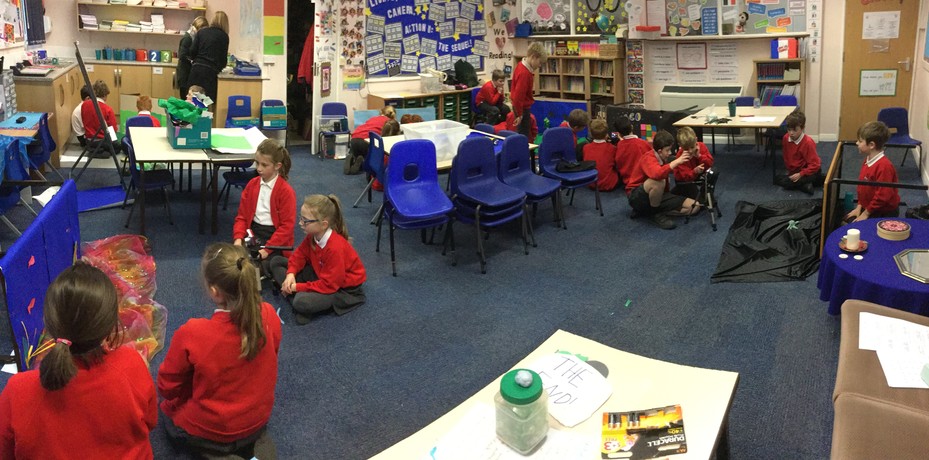 This week we have been busy creating some short stop animation movies. We worked in groups to plan a storyboard, design a simple set and take as many photos as we could! Once we had made these into short movies using Movie Maker on the laptops, we evaluated them - identifying things which had worked well and areas where we could improve. Our three top tips were: keep the camera still; animate small movements; and take lots of photos. After this, we had another go at making our films again, but this time they were improved sequels and we were all ready pleased with our second attempts. Just like any piece of work, we edited and improved it and learned from our mistakes. We took more time to create our sets and also thought carefully about which pieces of music fitted best with our movies.
We hope you enjoy watching them as much as we have enjoyed making them!
Thursday 26 January 2017: Trip to the National Media Museum
Last Thursday we spent the day at the National Media Museum in Bradford. In the morning we took part in an animation workshop where we learned about how to make stop motion movies, including how to defy gravity on screen using rigs. (You can see our efforts in the slideshow below...)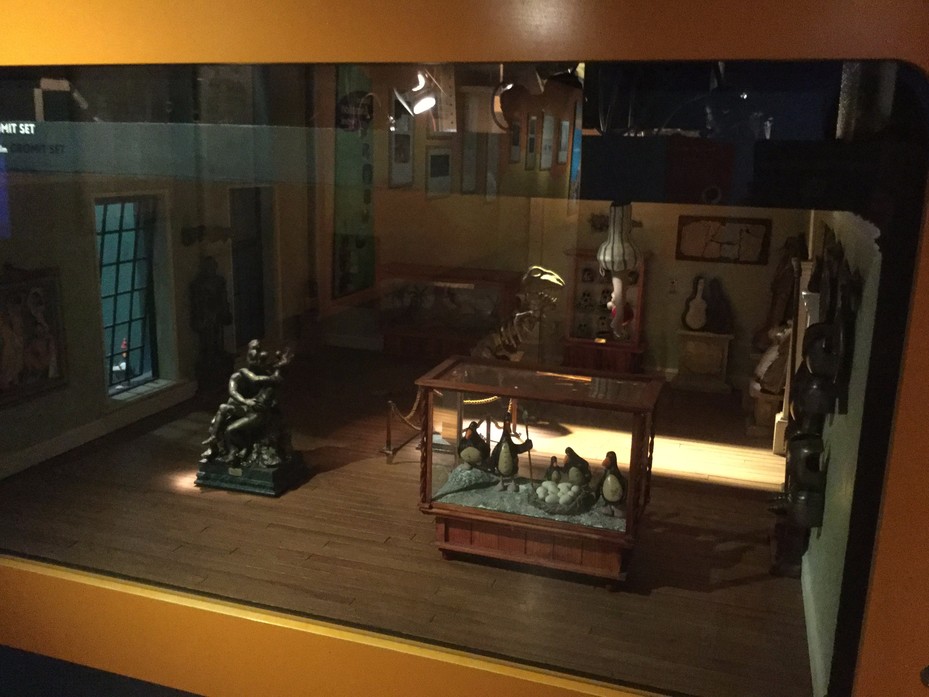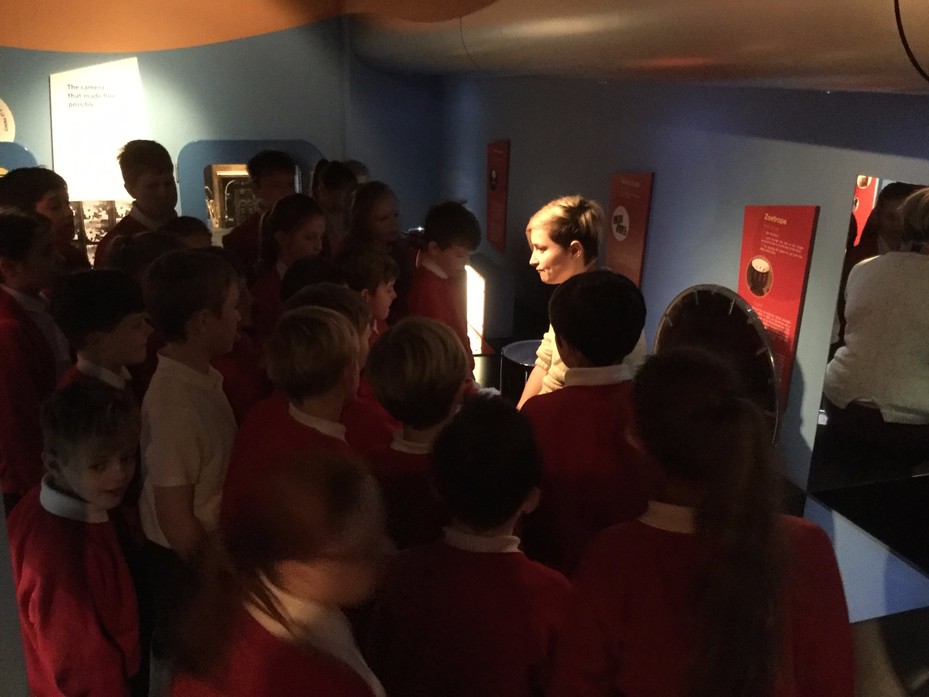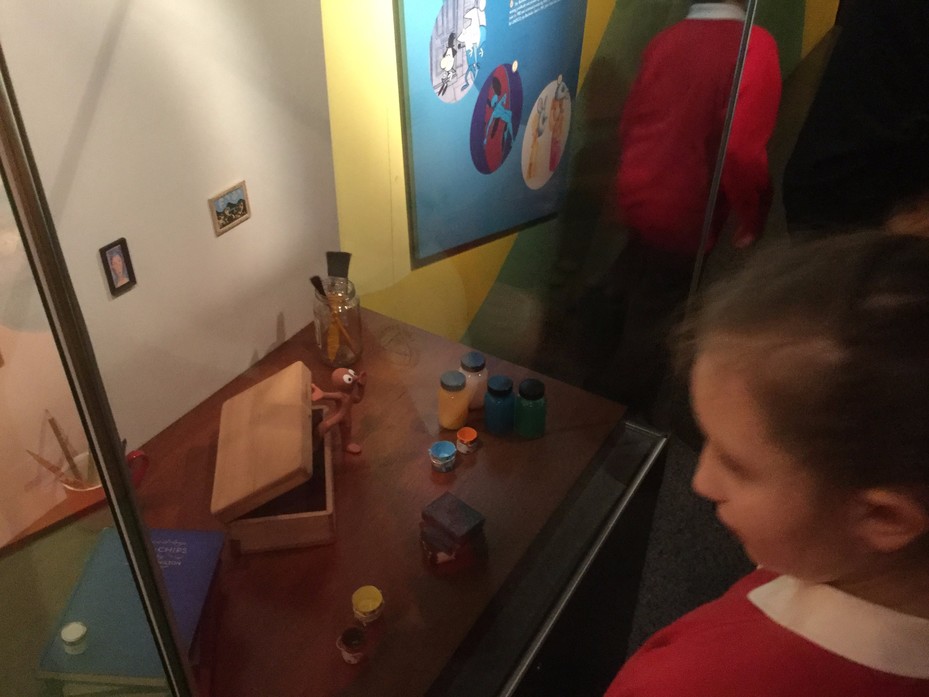 We looked around the animation floor with Dawn, our instructor, who pointed out the last remaining Wallace and Gromit set and the original stop motion character, Morph. (He's over 40 years old!) We then had a go at making our own movies - rolling a ball, bouncing a ball and making a man somersault.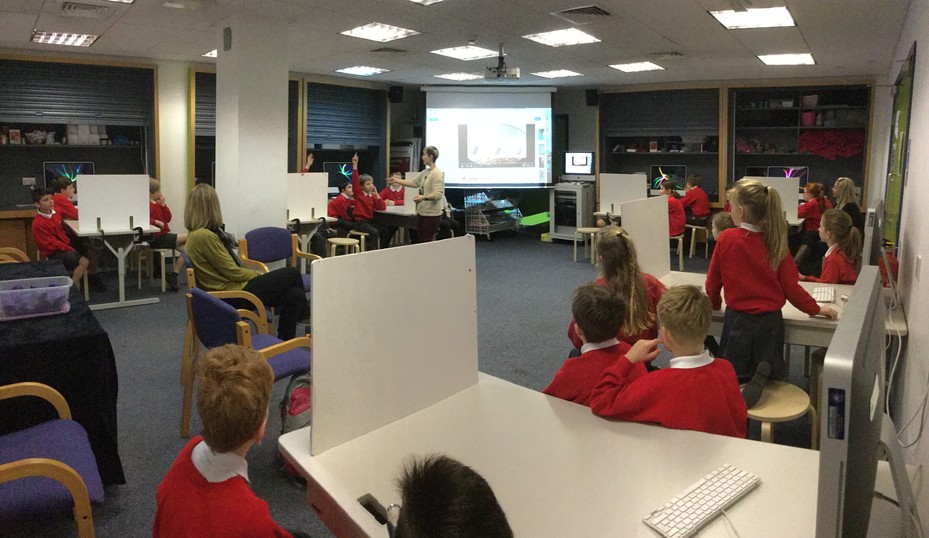 After this, we watched 'Walking with Dinosaurs' in the huge IMAX cinema. And finally, we had lunch!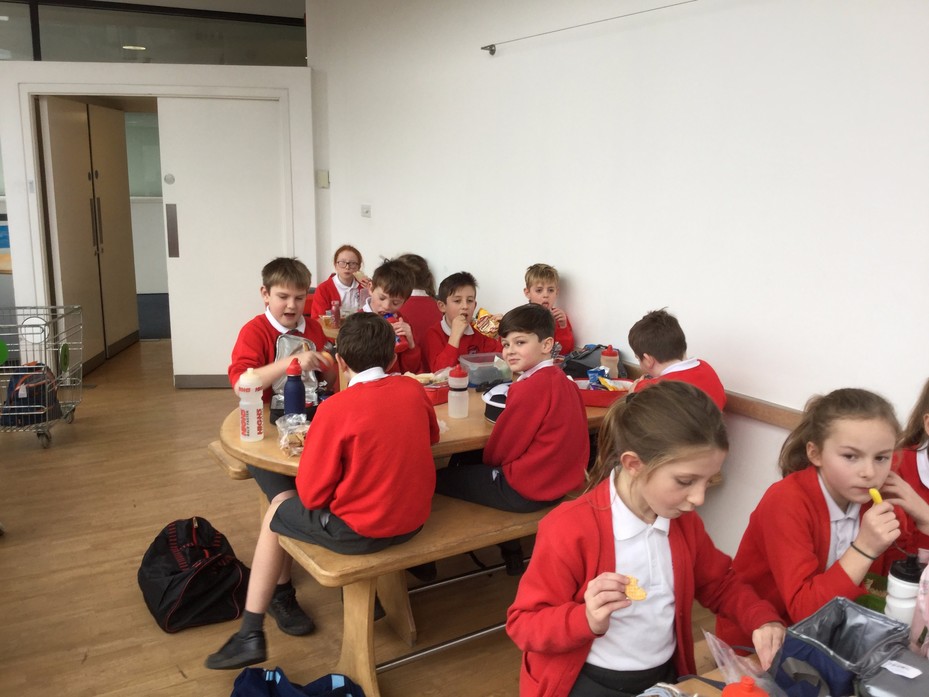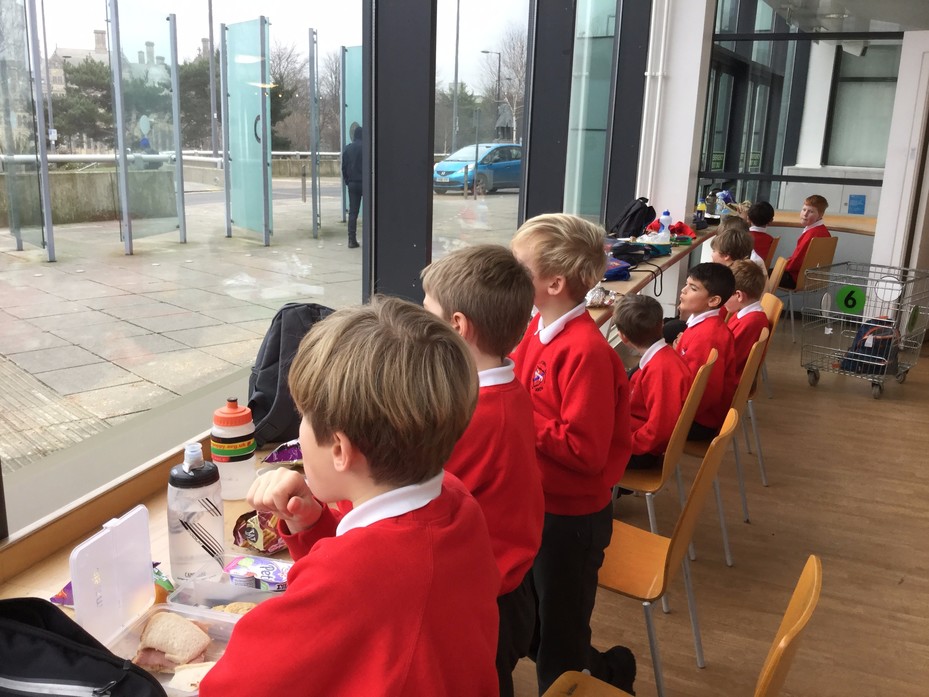 We had just enough time to explore the Games Workshop and the Magic Factory as well. It was a jam-packed day and we learned lots about how to be successful animators, and we will be using these skills back in the classroom.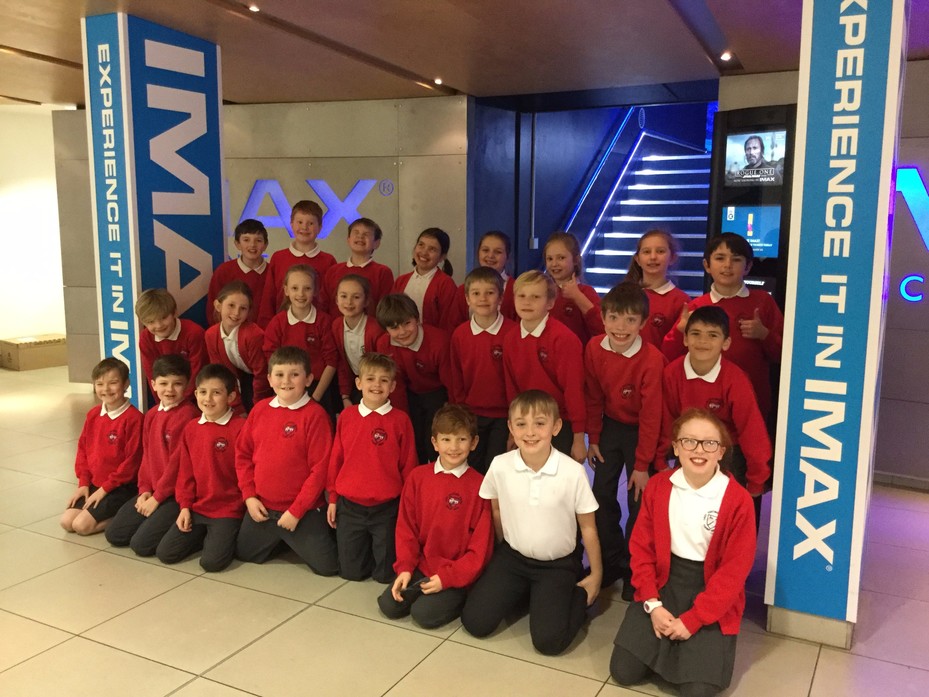 There are also some familiar faces promoting the museum's Yo-kai Watch for February half term... Yo-Kai Watch
Spring 1 2017: Lights, Camera, Action II: The Sequel!
Back by popular demand is our film theme, Lights, Camera, Action and we have already been enjoying creating some lights in D&T, watching clips of Disney's Aladdin to inspire some descriptive writing and discussing whether sequels are ever as good as the original film. In a few weeks, we will be getting behind the camera at an animation workshop at the National Media Museum in Bradford. It's going to be a jam-packed six weeks!
Take a look at our fantastic light show below!
December 2016: Ode to Joy
In ukulele this half term, we have been learning to play Beethoven's 'Ode to Joy'. It has been quite a challenge to master the fingering to play the tune, and then to play in two parts - chords and melody. We were really proud of ourselves and hope you enjoy watching us play too. (We are already looking forward to taking part in the Big Play concert in June later next year...)
Autumn 2 2016: Enquiring Minds
Our history work this half term is about the Romans in Britain and last week we re-enacted the invasion of 43AD. We moved the tables in the classroom to create a map of Britain and the Gaulish coast to help us visualise what happened and in what order.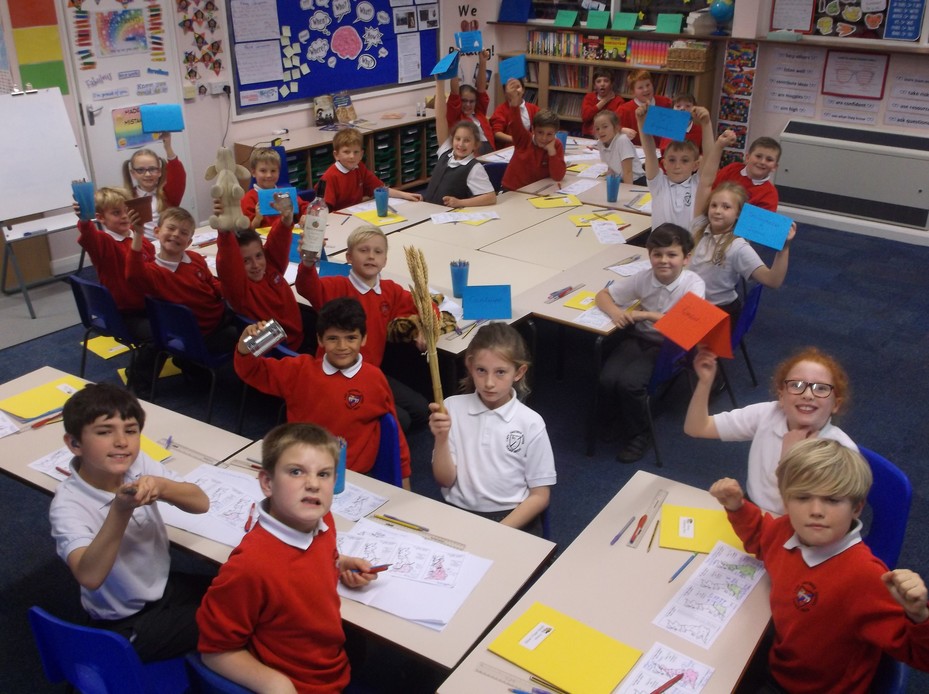 We are also using the Asterix books in English and we are really enjoying reading them.
In maths, we have been learning about the different types of triangles and how to find a missing angle in a triangle. We made some posters to show what we have learned...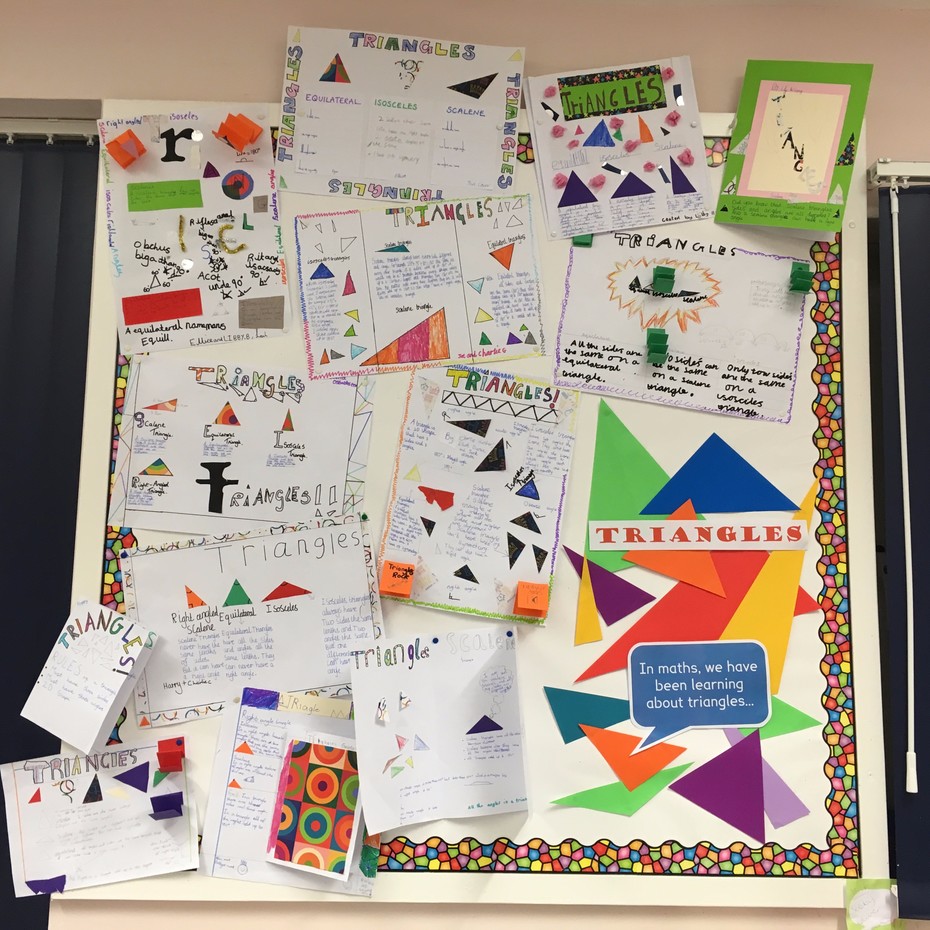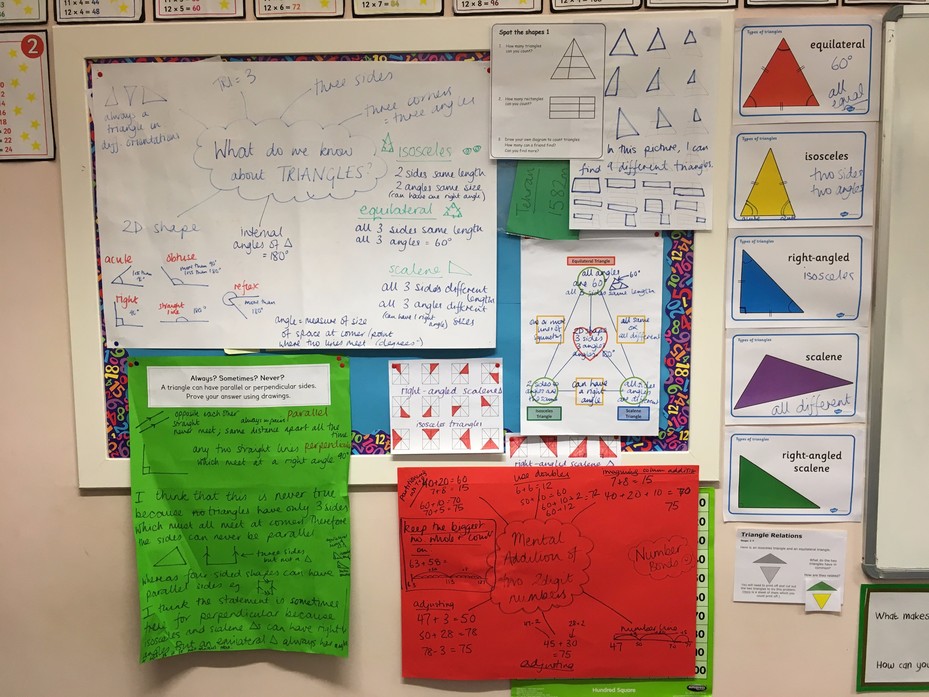 Autumn 2 2016: Enquiring Minds
Our theme over the next few weeks will require us to ask questions and consider carefully... put those thinking caps on Class 4!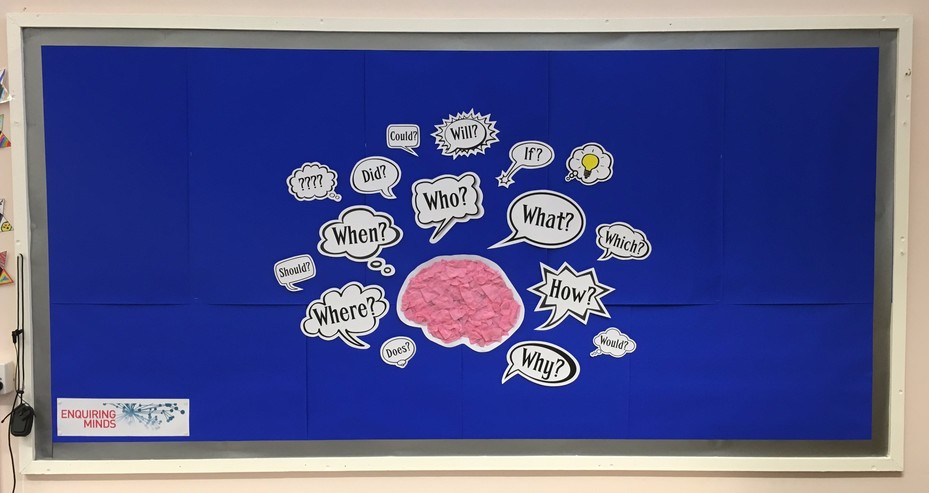 Autumn 1 2016: Where in the World?
The half-term flew past but we managed to pack in lots of learning to those seven weeks! You may have seen our art work in the corridor, spotted some of our improving tennis skills on Friday afternoons, or enjoyed our class worship on Wednesday 19 October.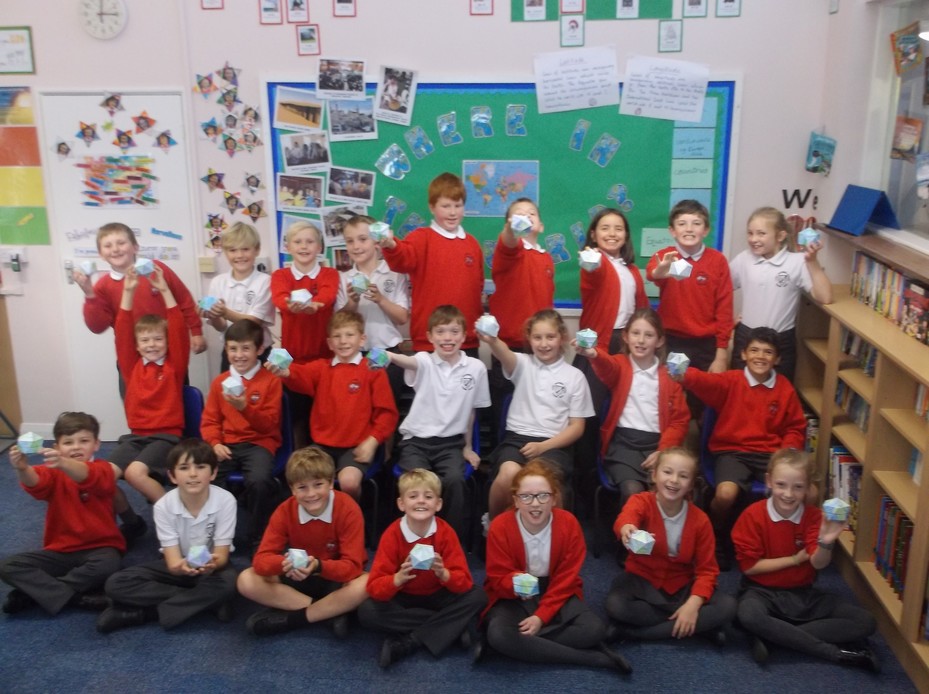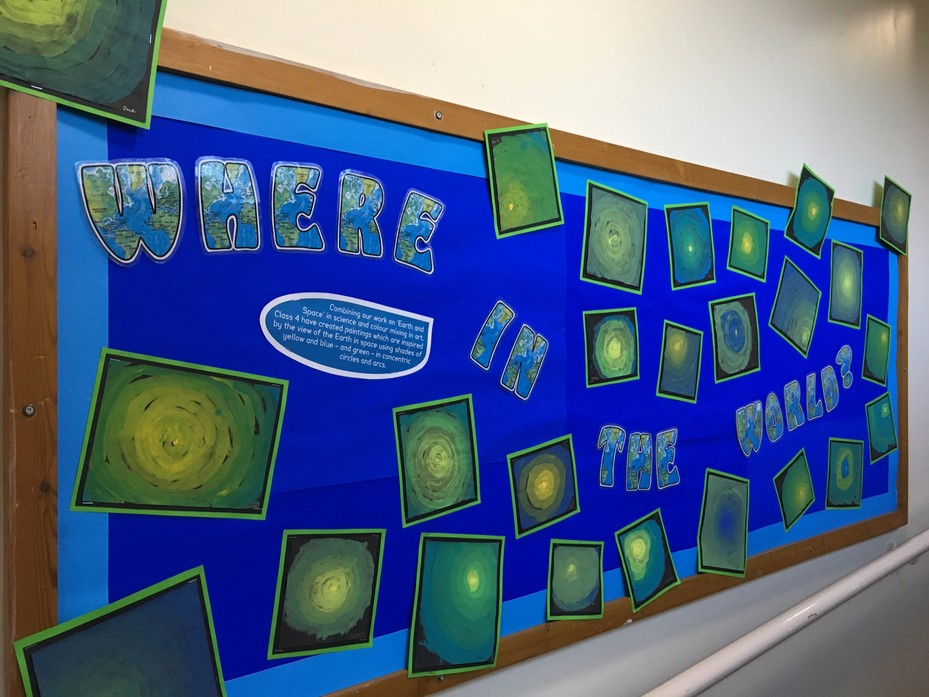 All the children in Class 4 worked together to organise resources, write and learn their scripts and share all their work about 'Where in the World?' We went on an adventure through time, space and around the world, discovering where the world is in the universe, as well as taking a closer look at Planet Earth through our geography and RE work. We retold the famous story of Phileas Fogg's race against time, taught the school a new song and performed When the Saints go Marching In on the ukulele (a tricky piece to master in only a few lessons with Mr Rossiter).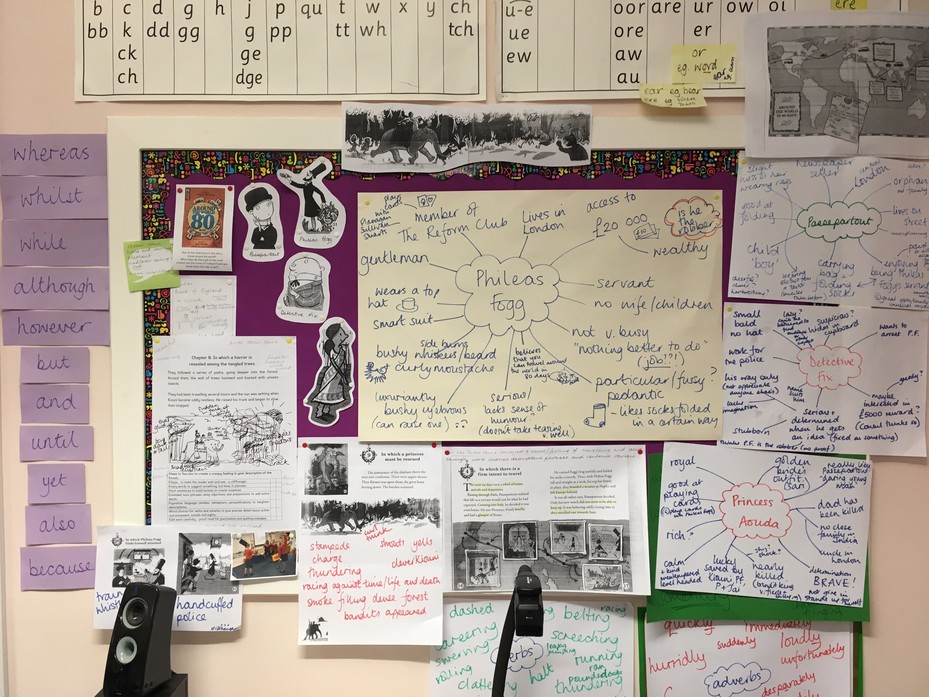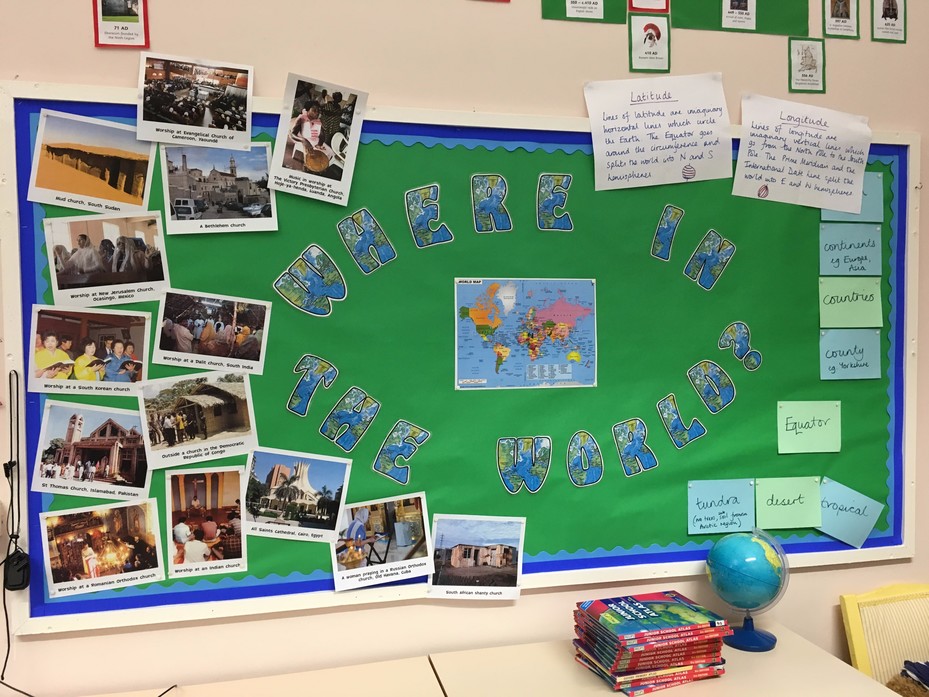 Here we are re-enacting Phileas Fogg's arrest by Detective Fix at Liverpool Train Station...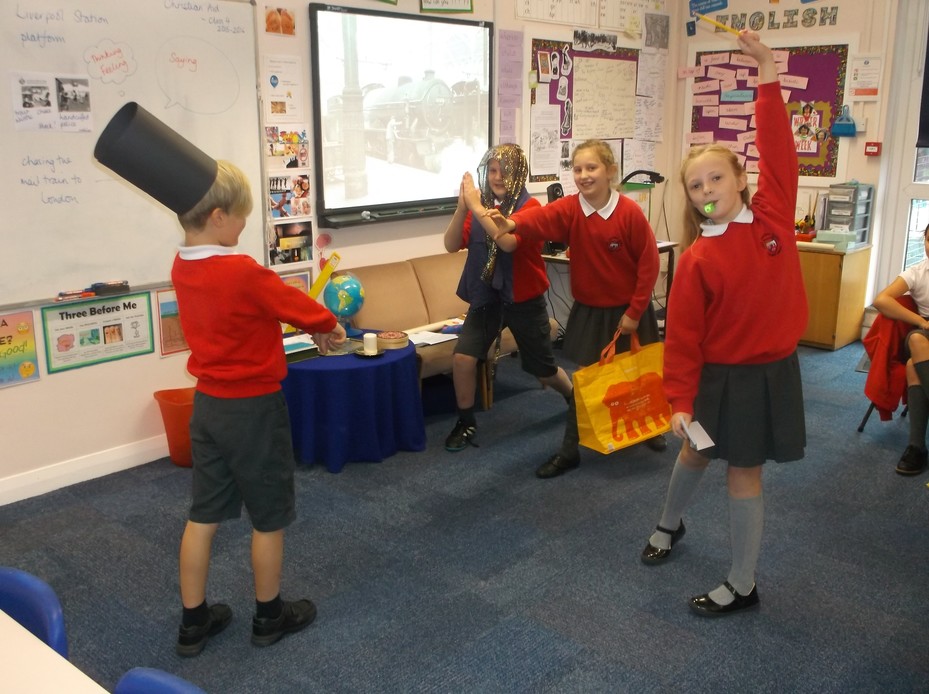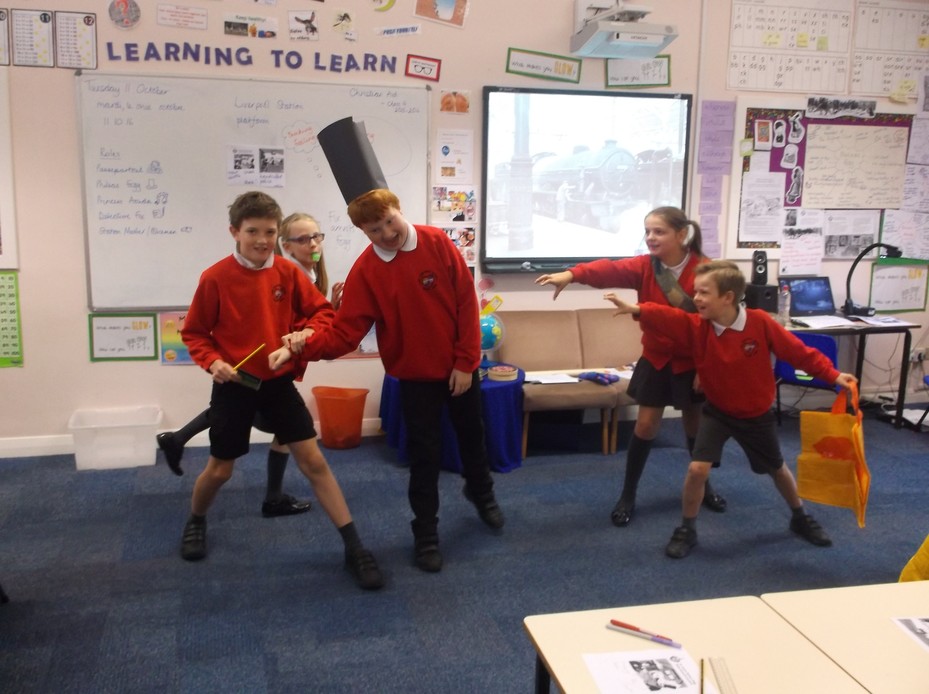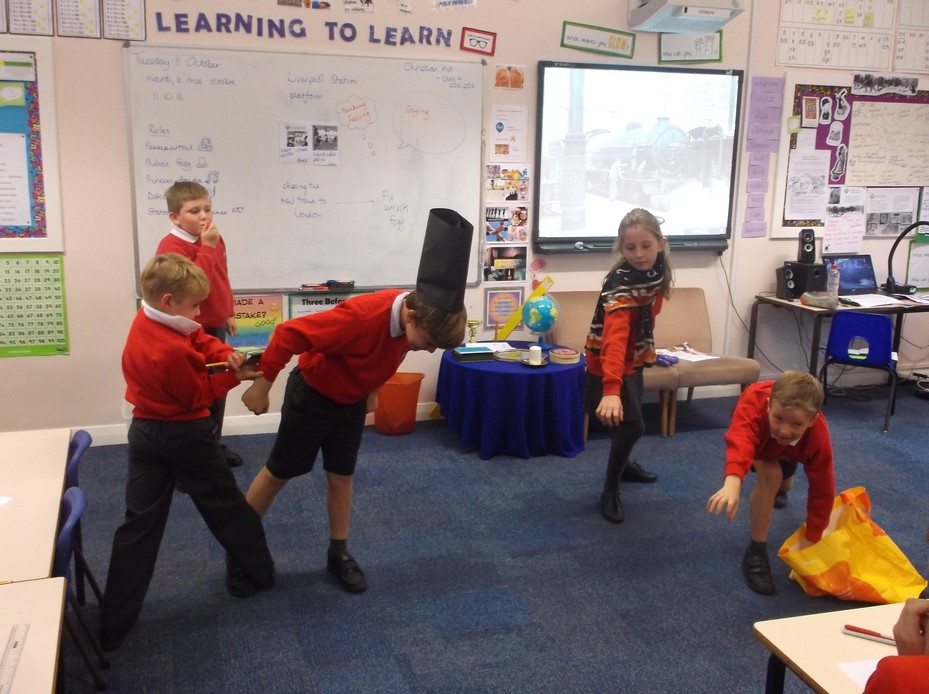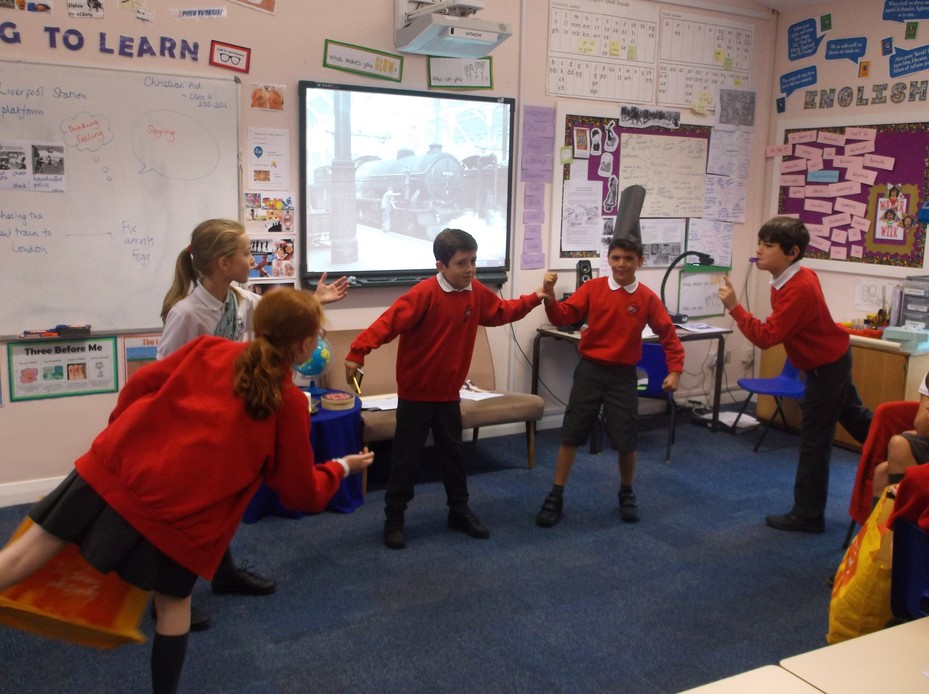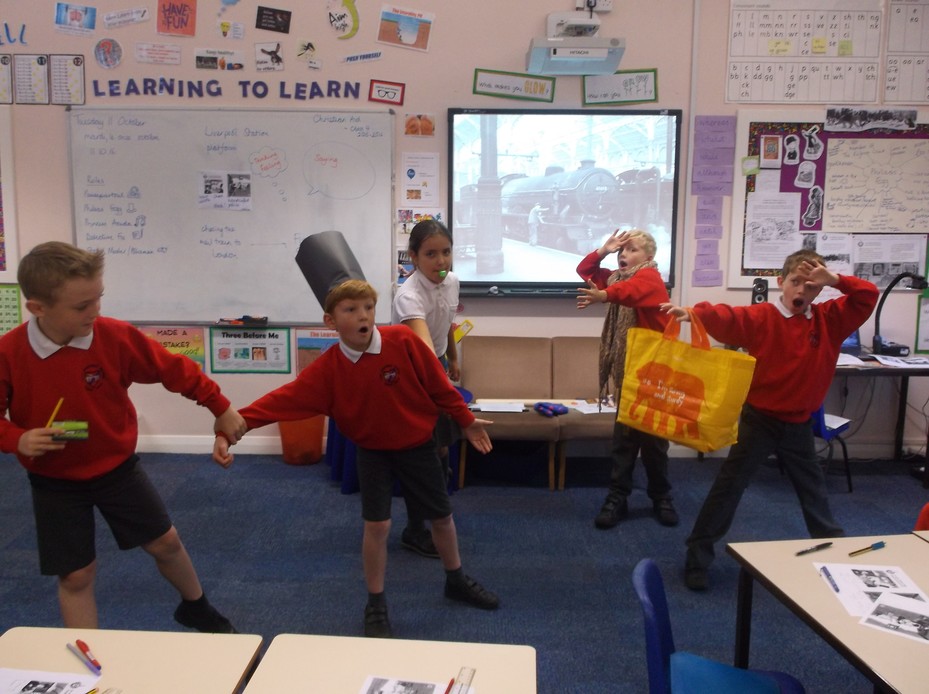 And here we are debating whether the world is spherical or flat, investigating the planets of the Solar System and creating the phases of the moon in science...