Class 5
Welcome to our webpage for 2017/18. Here you can find out about what we are learning and some of the activities we are enjoying in school. If you would like to see our archived Class 5 page for 2016/17, please click HERE
Summer 2 2018: Ten Pieces: Encore
In the final half term of the year we focus on music as we use the BBC Ten Pieces III project as a stimulus for our work.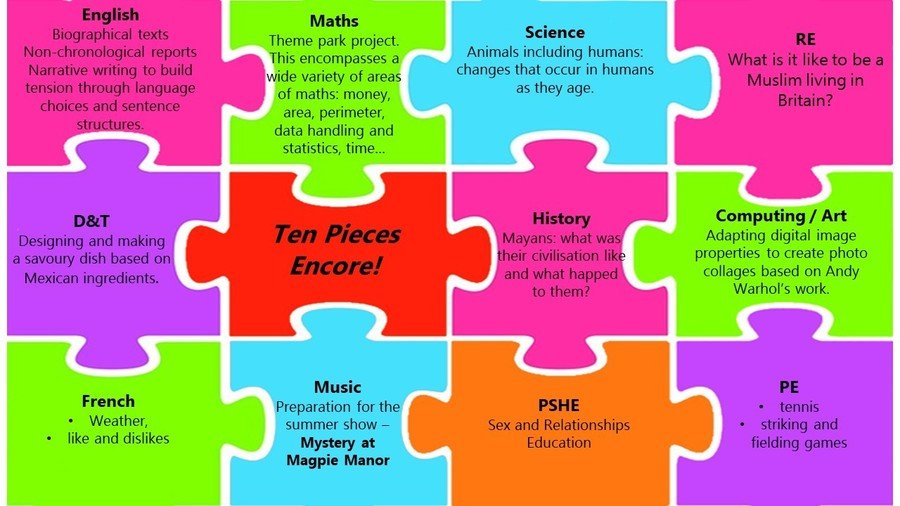 We are also preparing for our end-of-year musical extravaganza, Mystery at Magpie Manor.
Set in the 1920s and steeped in legend and intrigue, Magpie Manor is in a great state of disrepair and Lord and Lady Pica must take drastic action to save their crumbling manor house. The clan is gathered and together with Mr Fortune the bank manager and his bumbling assistants, they come up with a plan to sell off the family silver. But as the rich and famous guests arrive for the auction ball, strange things are occurring and when the family heirloom is unveiled, it has disappeared! Inspector Spectre is straight on the case, aided by none other than Agatha Christie and it seems that everyone has a motive from the servants and cheeky tradesmen to Cousin Rupert and his grasping American fiancée. But will the thief be caught and can Magpie Manor be rescued from impending disaster?
Summer 1 2018: Out and About
We are investigating our local area this half term as we get Out and About. We will carryout a field trip around the village and develop our map reading and compass skills. In English we will take the narrative poem, Jabberwocky by Lewis Carroll, and create newspaper report and legend story versions of the poem. Y6 children are also busy preparing for SATs tests which take place in May.
Field trip around the village
On 24 April, we carried out a field trip around the village. We made our way to All Saints' Church which is the highest point in the village and learned how to use a map and compass to work out a bearing. We also had chance to put our ma reading skills into practise. The weather let us down a bit - as you can see it was a bit damp - but we still learned lots and had a good time.
Spring 2 2018: Make a Difference
Through this half term we will be learning how we can make a difference. We will focus on how our editing skills can help us to improve our writing. In RE we consider how Christians follow the example that Jesus set to make a difference to the world around them. We will continue with our text Kensuke's Kingdom and consider how the main characters, Kensuke and Michael, made a difference to each other's lives.
Spring 1 2018: Connect Up
This half term our theme is 'Connect Up'. We will be exploring how we connect and communicate with the world around us. Our English work will be based around the book Kensuke's Kingdom by Michael Morpurgo.
Class 5 will also lead worship on 7 February at 9am.
We have written our own versions of part of the story, Kensuke's Kingdom. Here is an example that we shared at Class Worship on 7 February.
In geography, we have been learning about Earthquakes. We have explored which structures might be the most earthquake resistant and tested them on our jelly tectonic plates. As you can see, some were better than others!
Autumn 2 2017: I Wonder...?
This half term our theme is 'I Wonder...?'. As part of this work, we visited Magna in Rotherham where we developed our understanding of forces in a fabulous 'Rockets and Balloons' workshop.
Here are some pictures and videos of the day...